So, I'm finally back with another installment of my 31 decorating ideas for renters series. I have conveniently changed the title from "31 days of decorating ideas" to "31 decorating ideas" because I clearly did not post every day for 31 days… Ugh. I am terrible at commitment, I have "shiny new object syndrome," clearly. Anyway, I'm here to share with you some small office storage solutions for just about any price point.
First up is the Elfa series from The Container Store. This option is probably for the person with a decent budget; for this office set shown below it will run you $1,800 for the furniture and an additional $800 to have it installed by them. If you run a business out of your home, or work remotely and need lots of storage and organization, this set looks beautiful.
This desk below is from PB Teen, but I included it because I think it works as an adult space as well. Take out the stars on the wall and youthful accessories and I think this would look just fine in a main living area. This one will run you $950 – $1,500 depending upon if you want the whole hutch or not.
For around $497 you can get this leaning desk with two bookshelves from Crate and Barrel. This would probably work best if you are working with laptop since there doesn't appear to be much space for a PC monitor, but I'm sure you could make it work with a little creativity.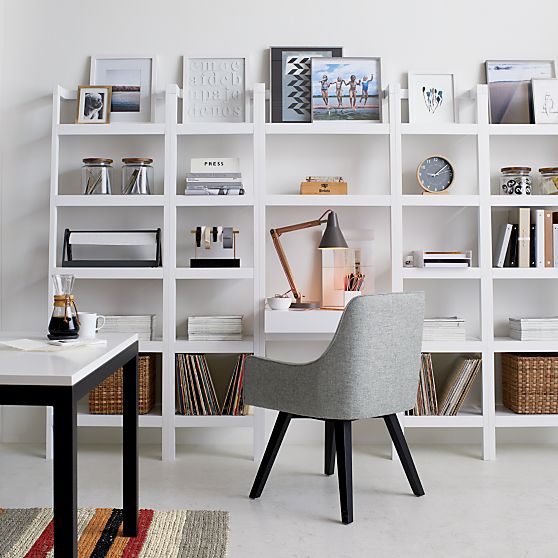 If you aren't in need of a lot of storage, I think this mini desk from West Elm is perfection. It's $399 and also comes in blue.
And of course you can't talk about small space storage solutions without Ikea coming into the conversation. This Algot wall system is only $228!
I have some Vittsjo shelves in my office space and I love them; for $137.99 you can get two shelves and a small desk. Not too shabby.
 -
This post is part of the 31 Day Writing Challenge (which I'm failing miserably at) to see my other posts in this series check in here, to explore posts by other bloggers see the main Write 31 Days website.